Last week, while California's next potential Governor Larry Elder was walking the streets of Los Angeles with many others on his campaign staff, a crazy liberal woman wearing an ape mask and holding up her hands in protest started yelling at him.
The shouts quickly turned violent for obvious reasons as they generally do when dealing with extreme leftists; this instance being no exception--the assailant threw an egg towards Elder but missed him by just inches.
Breaking: A flying egg narrowly missed the back of recall candidate @larryelder's head after it was thrown by an activist wearing a gorilla mask in Venice. A scuffle broke out and the candidate was escorted into an SUV.

Here's the raw (pun intended)
CW: f-bombs@SpecNews1SoCal pic.twitter.com/FeFx3wnuSD

— Kate Cagle (@KateCagle) September 8, 2021
What ended up happening is that a man who was with Elder stepped between him and the woman, and that's when the woman began ranting and raving at the man and threw a punch at the man, hitting him in the face.
The man did not retaliate and simply walked away. The video shows no law enforcement or security taking the woman into custody.
Okay, so that's the story. Now, let me show you how deceitful and insane the leftist media is.
The way the Los Angeles Times reported the story was "LAPD is investigating altercation involving Larry Elder at Venice homeless encampment".
Okay, well that makes sense I suppose, right? Now, insert the propaganda...take a look at the image that they included along with it.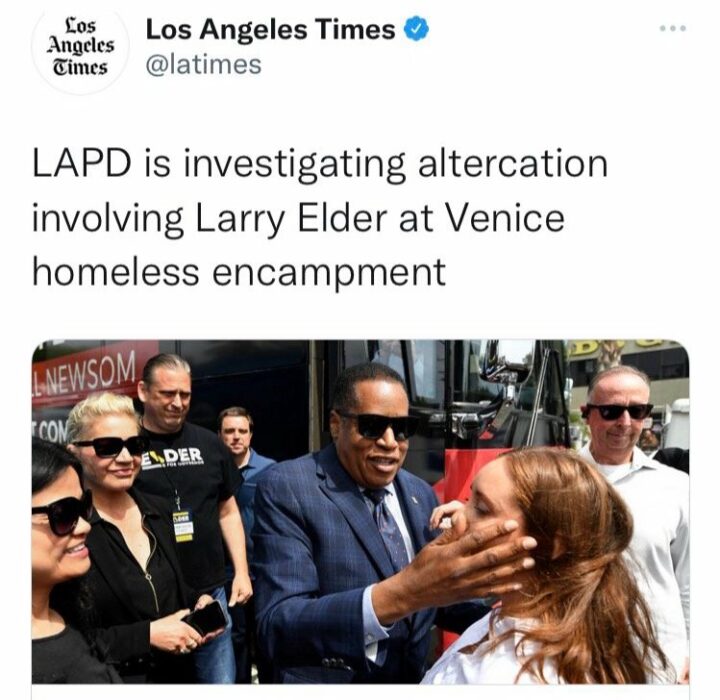 They used an image that makes it look like Larry Elder was slapping a woman.
So what does that convey? Well, at a glance, you would think that the LAPD is investigating an incident in which Larry Elder slapped a woman at a homeless camp.
THIS IS PROPAGANDA!!!
Even the woman in the photo called out the LA Times on their propaganda piece. The woman, Soledad Ursua said,
"Are you kidding me? You use this picture to make it look like @larryelder is slapping me? He was attacked by a white female wearing a Gorilla Mask. Are you covering for racists? Disgusting"
They ended up changing the image after catching backlash for the misleading image. Here's what they changed it to.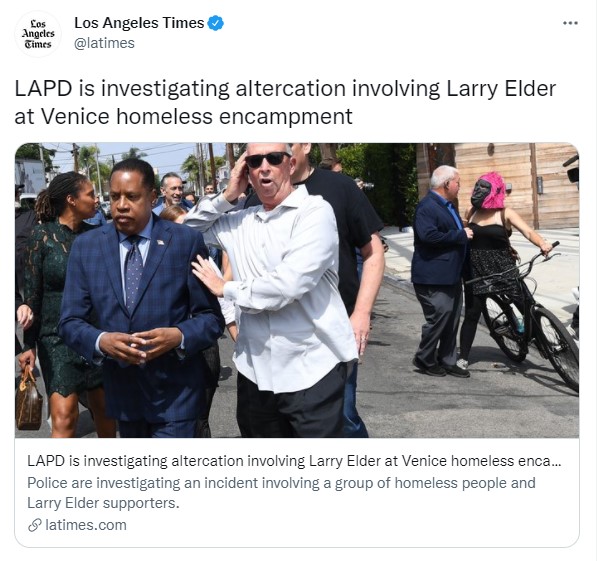 That's at least an honest image. But why couldn't they just do the honest thing to begin with? Because they don't care about honest reporting. They care about their agenda.